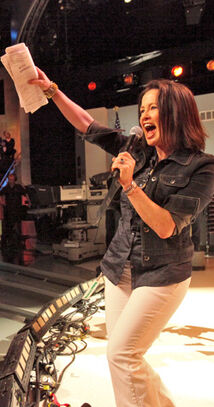 Sally Lou Loveman
is
Senior Audience Producer of the Oprah Winfrey Show
.
As Senior Audience Supervisor, Sally Lou has overseen the audience experience for all guests of The Oprah Winfrey Show since 2003. Each season, Sally Lou and her team manage over 46,000 audience members who visit Harpo Studios, from initial ticket requests through the end of the show taping. On show taping days, she does thepre-show warm-ups, in which she hosts on The Oprah Show stage before every episode taping. Sally Lou has secured and arranged seating for guests.
Sally Lou currently lives in Glencoe, IL with her husband Mitchell, daughters Marin and Carly, and son Billy.
Sally Lou began her career at Harpo in 1987 as Audience Coordinator. She then switched gears to serve as an Associate Producer from 1988 to 1989, and then Producer from 1990 to 1991, for which she won an Emmy® Award. From 1992 to 2002, Sally Lou was a freelance Associate Producer and then rejoined the audience team in 2003 in her current position.
Before arriving at Harpo, Sally Lou was an intern for NBC Monitor in Washington, D.C., and in 1984 she won the Irving B. Harris Internship in Production at WTTW-TV Chicago and served as Associate Producer there from 1985 to 1987. Sally Lou was also a Producer for The Jenny Jones Show from 1991 to 1992. Sally Lou has served on The Children's Service Board for Children's Memorial Hospital and ran a READERS ARE LEADERS program in her children's school district.