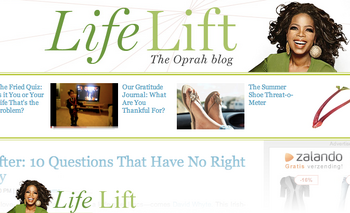 On 5th of May, Life Lift (The Oprah Blog) was created. The blog contributors are stating:
"The Oprah blog is a place where you can find engaging news coverage, fresh inspiration, and the straight talk you've come to count on. A place that provides the tools you need to make a change—if not in the world—then at least in your little corner of it. It's a place that will raise your energy, lower your blood pressure and occasionally make you laugh—in short, a place of possibility."
Latest Articles
Edit
The Life lifter: 10 Questions That Have No Right To Go Away On the list of things we love—a little before garlic and a little after lilacs—comes David Whyte. This Irish-born, American-bred poet makes us look, think and feel differently. Take his poem Self-Portrait, or this line from his poem "The Journey": Sometimes everything / has to be / enscribed across the heavens / so you can find / the one line / already written inside you.
Sure, he gives seminars at Oxford and has been profiled by PBS. But today he's given the Life Lift 10 Questions That Have No Right To Go Away, questions that "almost always have something to do with how we might become more generous, more courageous, more present, more dedicated" and show us "when we might step through the doorway into something bigger, better, both beyond ourselves and yet more of ourselves at the same time." They might point your life in an unexpected, unforgettable direction.
By: Leigh Newman
By: The Editors
By: Leigh Newman