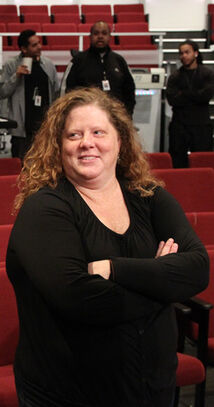 Jenna Kostelinek
is Senior Producer at the Oprah Show, where she supervises a production team and oversees all of the elements that go into creating a one hour episode of The Oprah Show.
Jenna lives in Chicago with her husband and daughter Erin.
Jenna began her career with The Oprah Show 14 years ago as a production assistant. Since that time she has held various positions with increasing levels of responsibility. Looking back at her time with Harpo, Jenna says four of her proudest career accomplishments include producing eight "Favorite Things" episodes, the Season 24 Kick-Off Party on Michigan Avenue, traveling to the Yearning for Zion polygamist ranch in Texas and the final Oprah Showseason premiere.
Jenna attended DePauw University, where she graduated with a degree in English. She also holds a masters degree in Broadcast Journalism from Marquette University. Jenna's first television job was as a special projects producer with WISN-TV in Milwaukee, WI.
Jenna works very closely with her by herself-proclaimed Harpo Husband Brian, a co-producer at the Oprah Winfrey show.
Jenna was born in Green Bay, Wisconsin, where her father Ron Kostelnik was a defensive tackle for the NFL's Green Bay Packers. She is extremely competitive when it comes to trivia games, and when she's not producing television, she enjoys spending time with her family and watching her favorite television show, The Golden Girls.