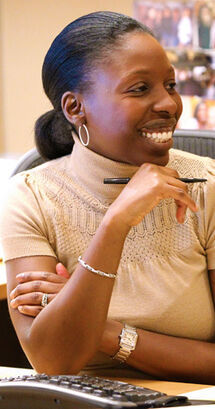 Candi Carter
is a
Senior Producer
at the Oprah Show, and works at Harpo since 1995.
Candi is responsible for overseeing the entire process of creating a one-hour episode of the award-winning The Oprah Winfrey Show. She produces a variety of episodes, both live and taped, including single-topic or multi-topic shows, makeover shows, fashion-focused shows, large-scale shoots on location and shows featuring stars of movies and music. Carter also supervises a team of five to seven producers, writes show scripts, manages show budgets, supervises booking and the handling of guests and experts. Candi is a mom of two, and lives with her husband in Chicago.
In 1991, Candi graduated from Boston College with a B.A. in Broadcast Communications and went on to be a Tapes Production Coordinator and Video Journalist at CNN in Atlanta, GA from 1992 to 1993. From 1993 to 1995, Candi was Programming Producer and Intern Coordinator at WISN-TV ABC in Milwaukee, WI where she produced news specials and children's programming and won an Emmy® Award for Outstanding Children's Programming. Candi began her career at Harpo in 1995 as an Associate Producer and held positions with increasing levels of responsibility, including Senior Associate Producer and Producer.
Candi is also the CEO and President of Hip Hop Baby LLC and started the children's entertainment company Go Child Grow with the award-winning debut DVD,
It's Hip Hop, Baby! All Your Child's Favorites.
In 2009, Candi launched a full product line nationwide and in 2010, Go Child Grow released its first fitness DVD,
Hip Hop Dance Class
.